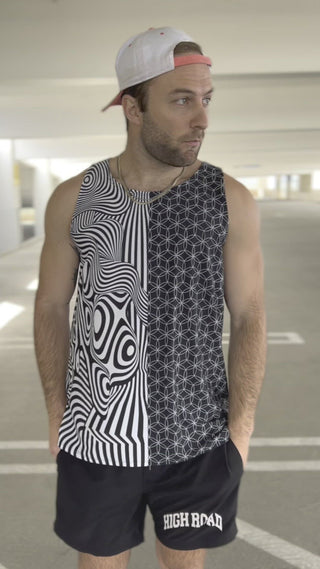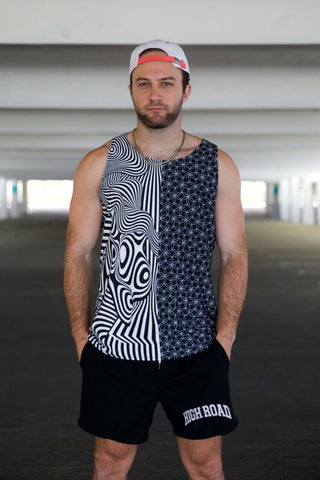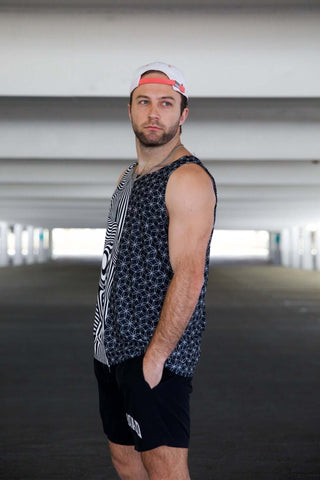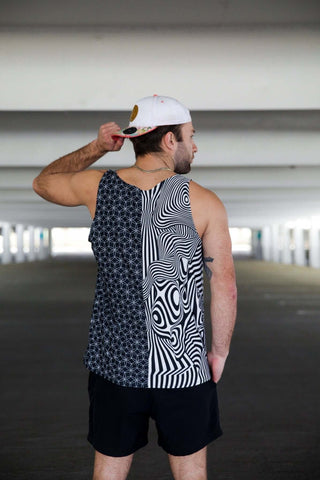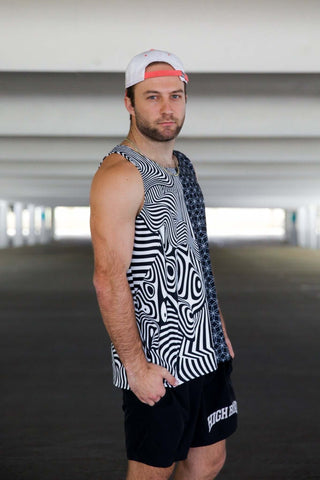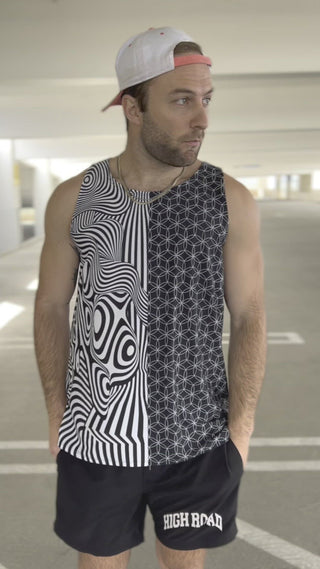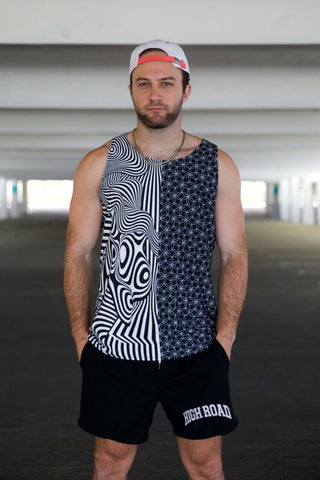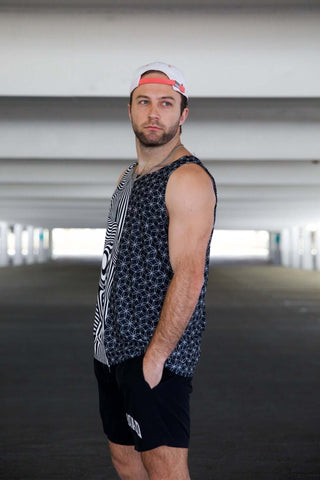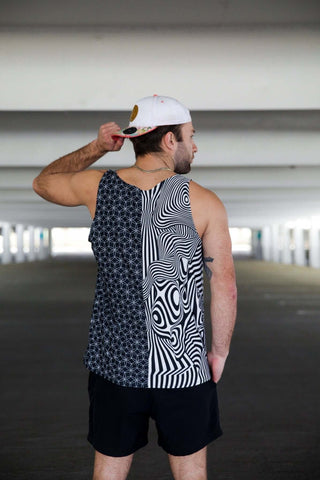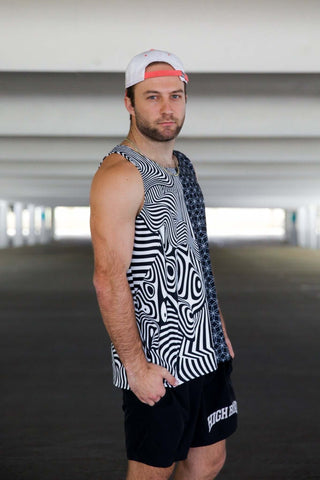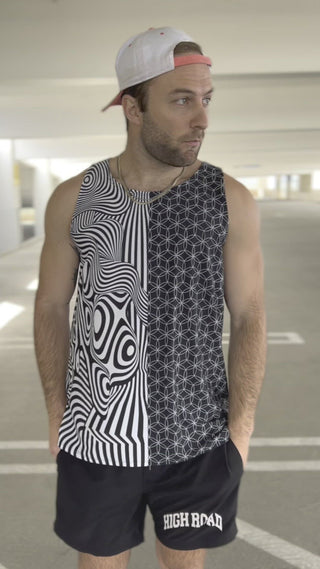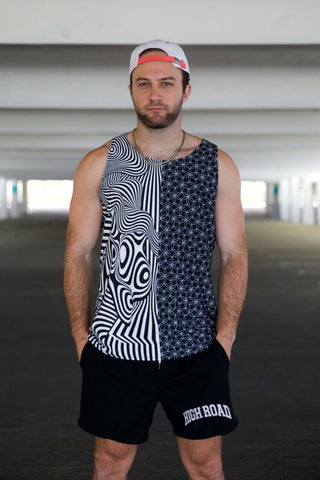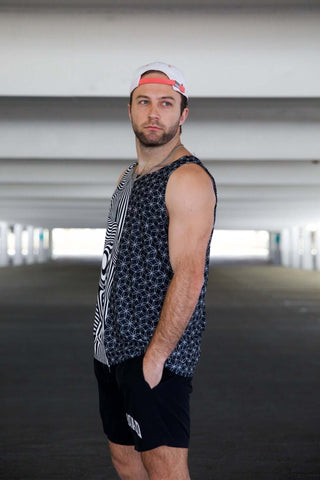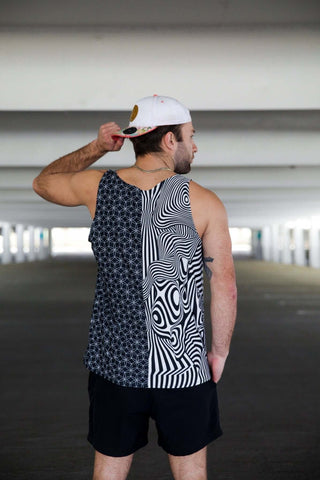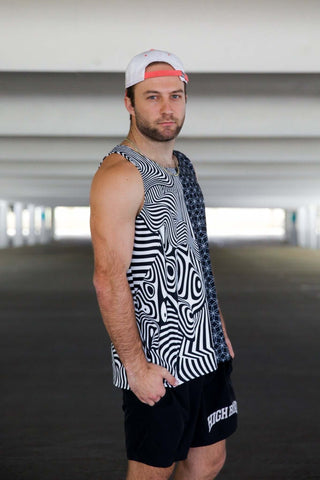 Duality Unisex Tank Top
Size
Small
Medium
Large
X-Large
XXL
Size Chart
Women's
Men's
How to Take Your Own Measurements for Freedom Rave Wear

To help you select the perfect size for your Freedom Rave Wear outfits, we have prepared a step-by-step guide on how to take your own measurements. You'll need a soft measuring tape, or a piece of string that you can measure using a ruler. Make sure to keep the tape snug, but not tight, and to measure in front of a mirror when possible to ensure the tape is level.
Chest/Bust Measurement:

1. Wear a Non-Padded Bra: This helps achieve the most accurate measurement.
2. Measure Around Your Chest: Place the tape measure under your arms and around the fullest part of your bust, ensuring the tape is level across your back.

Waist Measurement:

1. Identify Your Natural Waistline: This is the narrowest part of your waist, usually about an inch above your belly button. You can also bend to the side to find your natural waist. The crease that forms is your natural waist.
2. Measure Around Your Waist: Wrap the tape measure around your natural waistline, keeping it parallel to the floor.
Hip Measurement:

1. Stand with Your Feet Together: This provides the most accurate hip measurement.
2. Measure Around the Fullest Part of Your Hips: Wrap the tape measure around the fullest part of your hips and buttocks, ensuring the tape is level.

Inseam Measurement:

1. Choose the Right Pants: If possible, find a pair of pants that fit you well and have a similar cut to the Freedom Rave Wear style you are interested in.
2. Measure the Inseam: Start from the top of the inner thigh to the bottom of the ankle.

After you have obtained your measurements, compare them to the size chart on the Freedom Rave Wear product page to select the best size for you. If your measurements fall between sizes, we recommend going for the larger size for a comfortable fit.

Remember, these are body measurements, not clothing measurements. Our clothing is designed with a bit of stretch for comfort and fit, but it's always better to have a little extra room.

If you need any further assistance or have any queries regarding measurements, feel free to reach out to us. We're here to ensure you have the best possible Freedom Rave Wear experience!

Happy shopping!
At Freedom Rave Wear, we stand proudly behind the quality and durability of our products. That's why we're thrilled to offer our customers a Lifetime Warranty on every purchase. We're committed to ensuring that you can dance, party, and express yourself without any worries about your outfit.

What does the Lifetime Warranty Cover?

Our Lifetime Warranty covers all manufacturing defects in materials and workmanship when used in normal conditions and for the purpose intended. This includes problems like stitching coming undone, faulty zippers, broken straps, or fabric defects.

Please note that this does not cover damages caused by accidents, improper care, negligence, normal wear and tear, or the natural breakdown of colors and materials over extended time and use.

How does it Work?

If you discover a defect in one of our products, simply reach out to us with a detailed description of the issue and pictures showing the defect. Our dedicated customer service team will review your claim and guide you through the next steps.

If your claim is approved, we will either repair the item at no charge, exchange it for the same item (subject to availability), or offer you a product of equal value if the same product is not available.

Shipping

Please note that customers are responsible for all shipping charges related to warranty claims. We will cover the shipping cost for the replacement or repaired item back to you.

Exclusions & Limitations

This warranty only applies to products purchased directly from Freedom Rave Wear or an authorized dealer. Second-hand items, items bought through unauthorized resellers, or items used for commercial purposes are not covered.

Remember, our warranty is a testament to our confidence in the quality and durability of our products. We're here to ensure you have the best festival experience possible, from the moment you step into your Freedom Rave Wear gear, to the last beat of the music.

Enjoy the rave with peace of mind.

The Freedom Rave Wear Team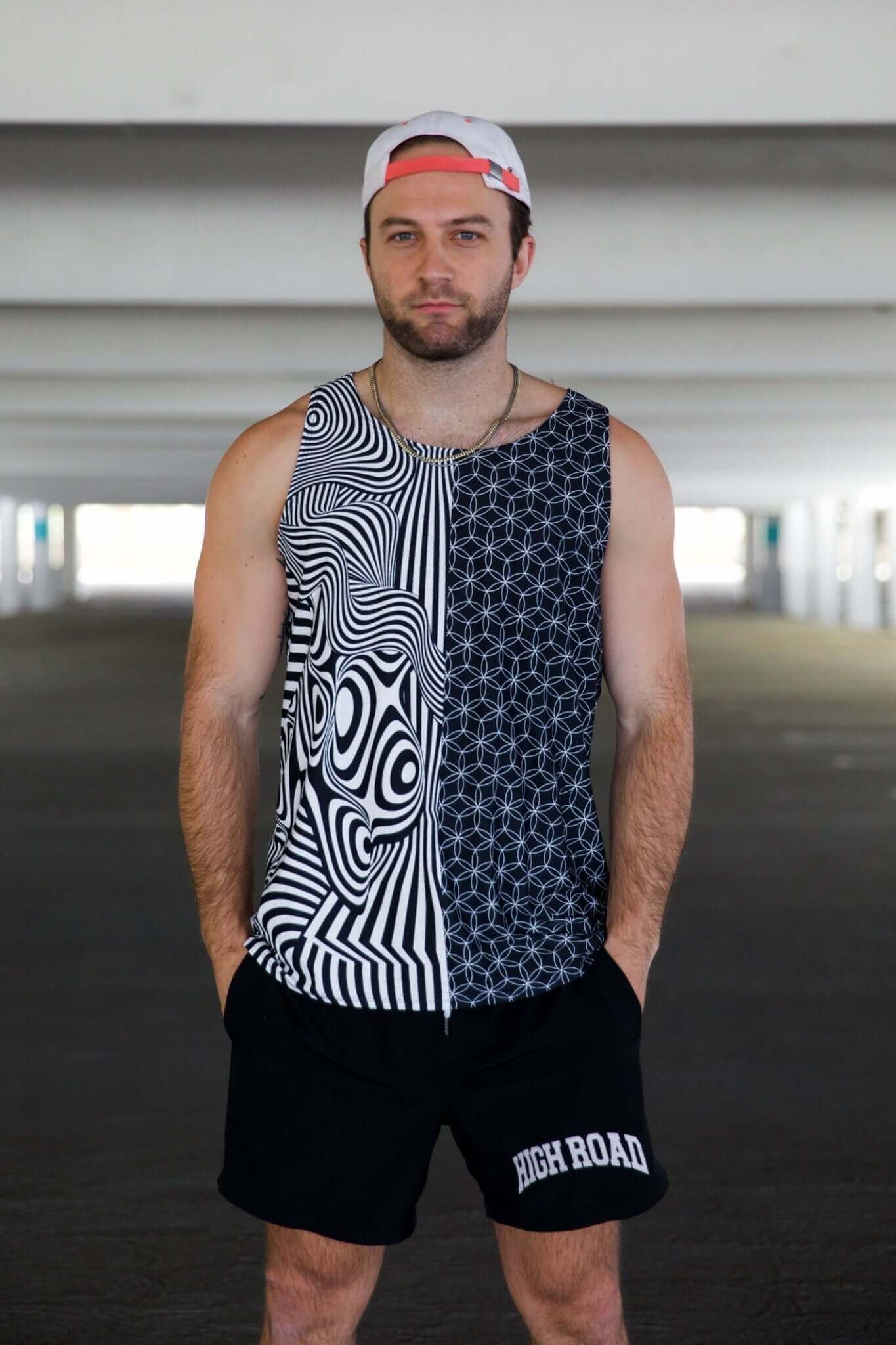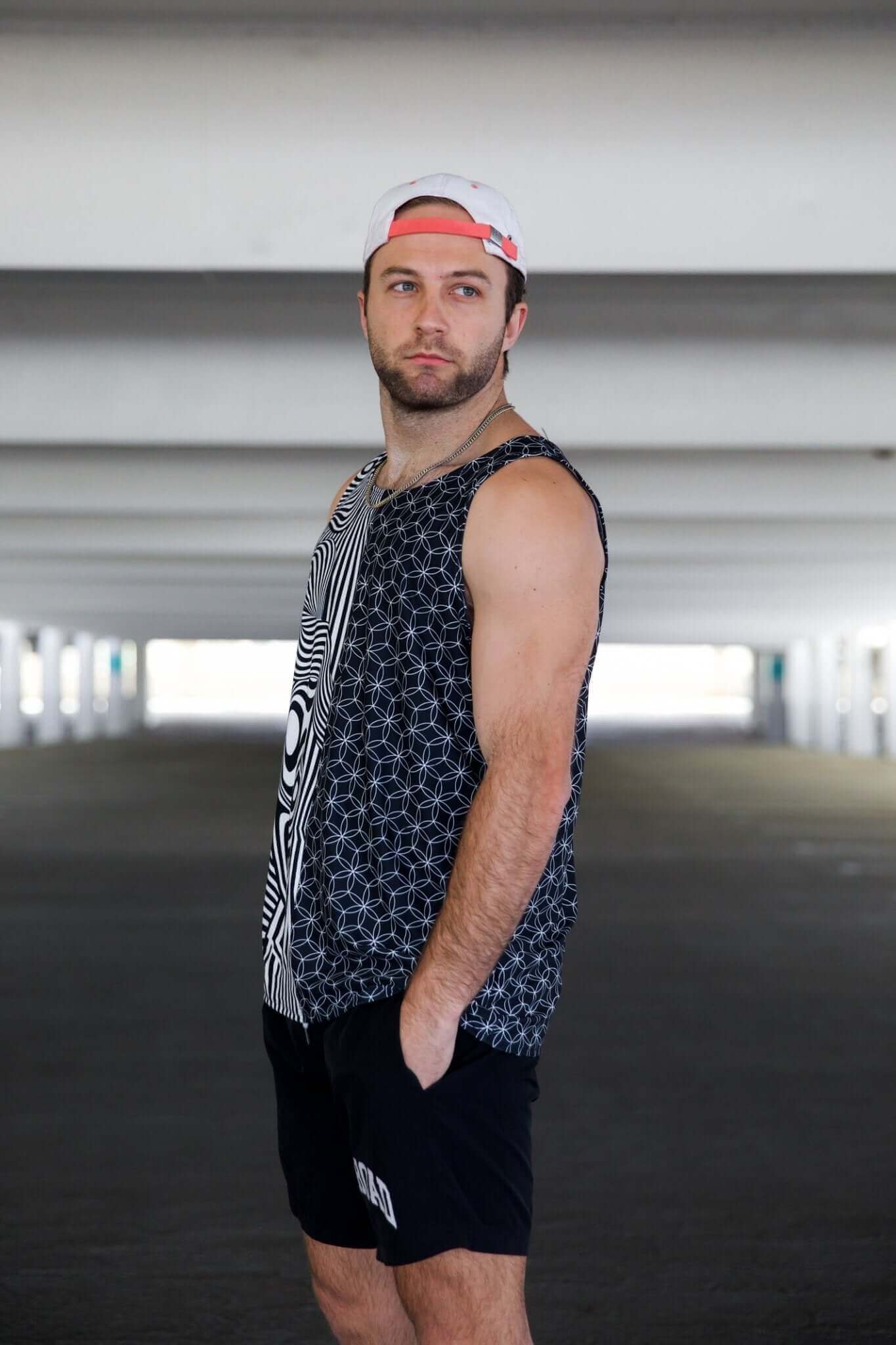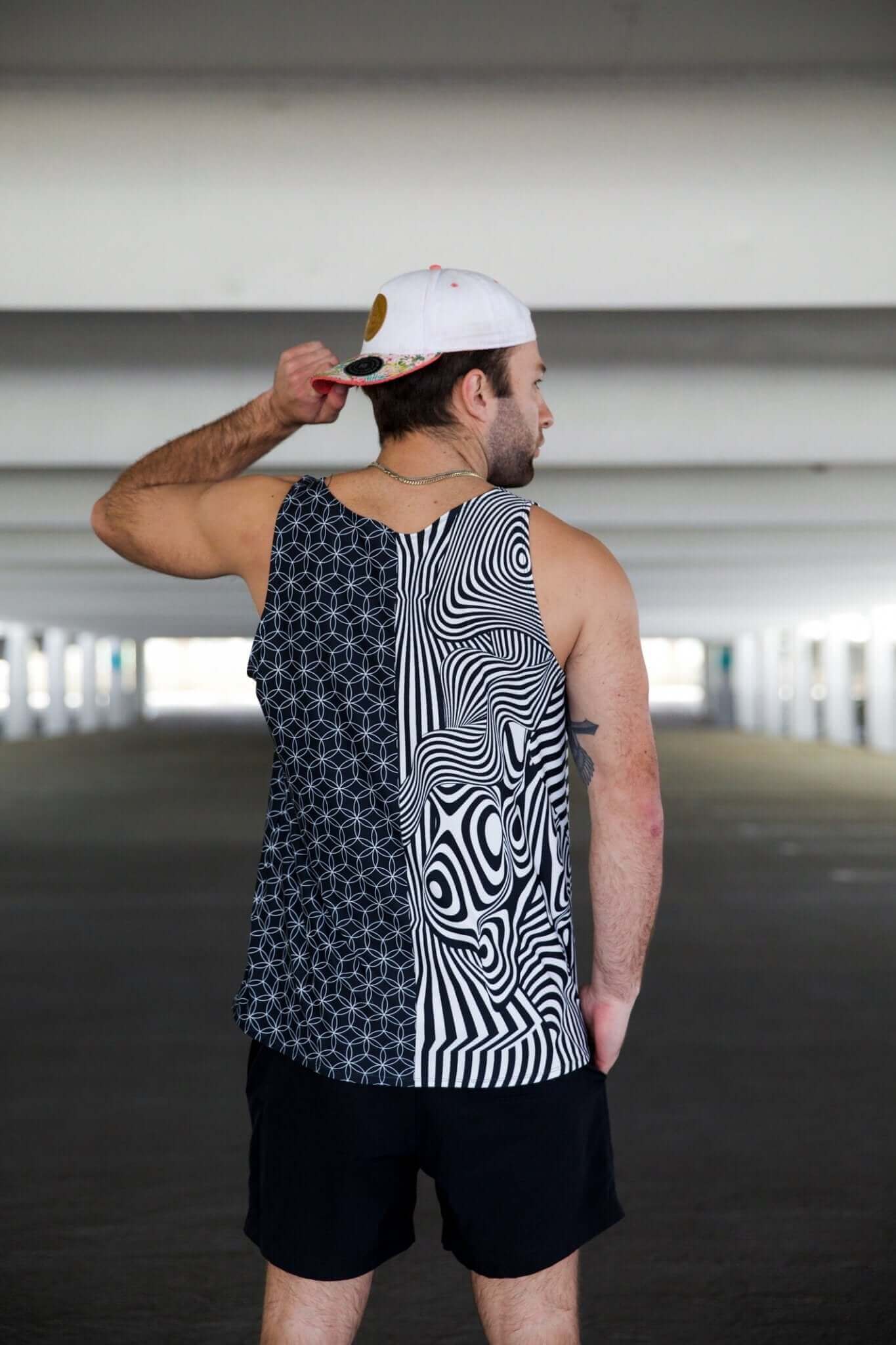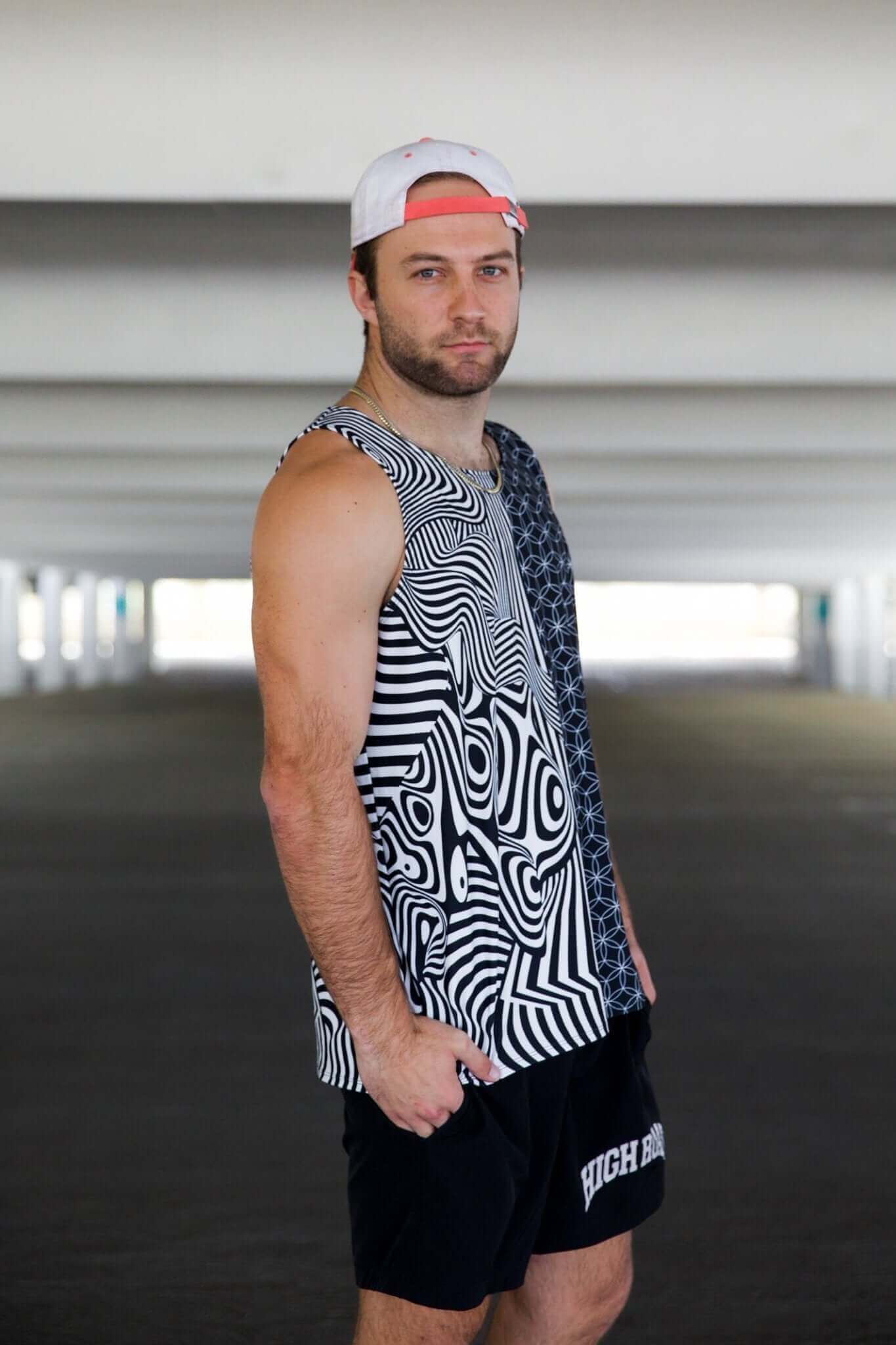 Step into the world of enchantment and let your style radiate with our Duality Unisex Tank Top! Perfect for those who dare to embrace their dual nature, this tank top is the ultimate match for you and your rave bae.

With its captivating black and white graphic print, this tank top is a true masterpiece. Made with recycled materials, it not only looks good but also feels good knowing you're making a positive impact on the environment.

Designed exclusively for FRW, this tank top features a relaxed fit and a men's scoop neck, ensuring maximum comfort and style. Crafted with 93% recycled polyester and 7% spandex, it's soft, stretchy, and perfect for dancing the night away.

Handcrafted with love in sunny San Diego, CA, this tank top is a true testament to quality and craftsmanship. We guarantee your satisfaction, because we believe that when you wear our Duality Unisex Tank Top, you're not just wearing a piece of clothing, you're wearing a symbol of unity and harmony.

Please note that due to varying screen display settings, the fabric images may appear brighter or darker than the real fabric. So, before you embark on your magical journey, please consider this tolerance when ordering based on the website images.

Unleash your inner whimsy and let the Duality Unisex Tank Top be your ticket to a world of extraordinary style. Get ready to rave in perfect harmony with your EDM-loving partner. Order now and let the magic begin!
Embracing the Future: How Freedom Rave Wear Uses AI to Revolutionize Festival Fashion
At Freedom Rave Wear, we've integrated Artificial Intelligence (AI) into our operations to redefine festival fashion through a lens of sustainability and customer-centricity. We harness AI to minimize waste, enhance production efficiency, and achieve our sustainability goals.